This weekend was the fall's first without a football game (which is a big deal here in UF town) so it was jam-packed with events.
My dad came to visit so after dinner, we went to the Downtown Community Plaza for a free outdoor concert of a
local Irish band
. I love traditional Irish music but was a bit disappointed to see no fiddle! It was fun to watch all the little babies dancing around. People-watching in general at these weekly summer concerts is usually what draws me in the first place.
Then we walked over to
Volta
, a newish coffee shop that opened downtown. I'm not a big coffee drinker so I was excited to see all the different varieties of tea and hot chocolate available. I ended up with a jamaica agua fresca. I've only had a horchata agua fresca (basically rice milk with cinnamon) so I don't know how "authentic" it was, but it sure was tasty! Jamaica is made from the hibiscus flower and it's extremely tart. It reminded me of pomegranate juice but with a sweeter aftertaste. I'll definitely be going back to try their different agua frescas of the day and also their white hot chocolate which has this description: "a white drinking chocolate that impresses everyone. Lemon myrtle, indigenous to Australia, imparts flavors reminiscent of lemongrass and kaffir lime. Lavender flower yields a floral bouquet while the citrus notes of lemon myrtle cut the sweetness of white chocolate."
The next morning we walked over to the Friends of the Library Book Fair. It only occurs twice a year for five days each and somehow I end up going every one of those five days and buying new books each time. I can't really complain about the money since I bought seven books yesterday for $4.00. It's the best deal in town and possibly the most popular outside of Gator sports and the art festivals.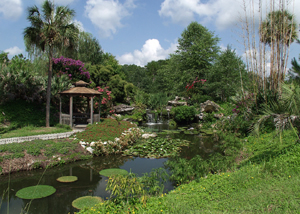 Then we headed over to The Kanapaha Botanical Gardens for their Annual Fall Plant Sale. I had never been but this year admission was free. I rent in a house I don't plan on staying in for long, so I only bought an African Violet for my kitchen window, but the gardens were beaaauutiful! I was impressed by how large the grounds are and the diversity of the plants. I also liked how almost all the plants you saw had labels with the common and scientific names and sometimes even descriptions and historical information about the plant. There was a scenic overlook onto Kanapaha Prairie, which I had heard about plenty of times but had never seen it. My parents love gardening and collecting plants so I've grown up going to plenty of gardens and have to say that Kanapaha definitely ranks up there with the best of them. The next plant-loving visitor who comes to stay with me will be getting a trip here!